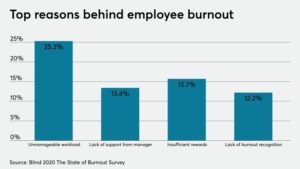 Employee burnout is becoming more of an issue during the pandemic. The adjustment to remote working has its downside as keeping the worlds separate (home/work/personal time) is becoming blurrier. Less in-person interaction, more isolated and added workloads with less breaks; it's becoming a problem in and of itself. Are employers prepared to address this? More on this in:
Employee Benefit News
"As employees adapt to remote work, the line between extreme productivity and exhaustion has been dangerously blurred. The number of employees suffering from burnout is climbing during the pandemic, due to added workloads, fewer in-person interactions and less breaks. However, the number of companies prepared to tackle the issue remains low, according to a survey from Blind. More than 60% of employees say they are burned out, but less than 15% said their company had a plan in place to alleviate stress, the survey found. Why haven't companies taken more initiative? They might not know they need to, says Jessica Tropper, people operations manager at TravelBank, a corporate expense and travel management company."
Managepoint understands what a business needs when it comes to providing human capital solutions. From 10 to 300 employees–for benefits, payroll, professional recruitment support, training and much more, our clients rely on us to provide the knowledge, support and technology necessary.